Virunga Mountains, Africa | John Seach

Virunga mountains cover a great diversity of habitats, from steppes, savannas and lava plains, swamps, lowland and montane forests to volcanoes and the unique giant herbs and snowfields of Rwenzori over 5,000m high.
The Virunga National Park covers and area of 790,000 hectares. It is contiguous for 45km with the Rwenzori Mountains National Park in Uganda (99,600ha), also a World Heritage Site, for 50km with the Parc National des Volcans in Rwanda (15,000ha) and for a few kilometers with Mgahinga Gorilla National Park (2,900ha) in Uganda.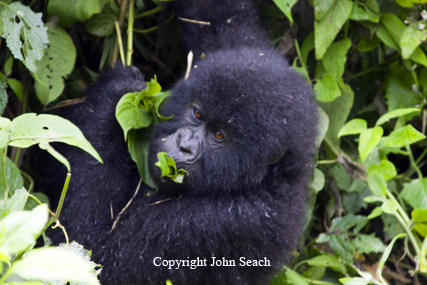 Gorilla in the Virunga Ranges - John Seach
The Virunga National Park was inscribed as a World Heritage site in 1979.
The park lies in the western (Albertine) rift valley and on the adjacent mountains. It includes five main biomes: the forested granitic Rwenzori and volcanic Virunga massifs, lowland forest, savanna, and swamp-edged lake.
The Virunga Range contains 9 volcanoes.
Eastern Virunga
Gahinga (Mgahinga), (3474 m).
Muhavura, (4127 m).
Sabinyo, (3647 m).

Central Virunga
Karisimbi, (4519 m).
Mikeno, (4437 m).
Mugogo, (2370 m).
Visoke, (3711 m).

Western Virunga
Nyamuragira, (3056 m).
Nyiragongo, (3470 m).
The areas of lowest and highest rainfall in Democratic Republic of Congo are found in Virunga National Park less than 75 kilometers apart. Rain falls all year but more heavily from March to May and mid-September to mid-December, with drier spells following each. Annual rainfall averages 500mm at Lake Rutanzige, 900-1500 mm on the plains south of the lake, decreases higher on the volcanoes but on the west slope of the Rwenzoris orographic precipitation is almost 3,000 mm. These mountains have heavier snowfall than Mounts Kenya or Kilimanjiro, are permanently ice and snow-covered and carry small retreating glaciers.
The Virunga Volcanoes form part of a larger landscape of contiguous protected areas known as the Greater Virunga Landscape. This landscape is one of the most species rich in Africa and contains more vertebrate species than any other group of inter-connected protected areas on the whole continent and possibly the world.
The Virunga Volcanoes are only 425 sq km in area, but contain 45-57% of
the endemic vertebrate species found in the Albertine Rift.
The Virunga volcanoes have a total of 86 species of mammals. The larger mammals include the mountain gorilla (Gorilla beringei beringei), buffalo (Syncerus caffer), bushbuck (Tragelaphus scriptus), black-fronted duiker (Cephalophus nigrifrons) and elephant (Loxondata africana). There is also the endangered golden monkey (Cercophithecus kandti) known only to occur in the Virunga Volcanoes and the blue monkey (Cercopithecus mitis).
Further reading
Trogisch, L. and Fletcher, R., 2020. Fortress tourism: exploring dynamics of tourism, security and peace around the Virunga transboundary conservation area. Journal of Sustainable Tourism, pp.1-21.

Robbins, M.M., Gray, M., Fawcett, K.A., Nutter, F.B., Uwingeli, P., Mburanumwe, I., Kagoda, E., Basabose, A., Stoinski, T.S., Cranfield, M.R. and Byamukama, J., 2011. Extreme conservation leads to recovery of the Virunga mountain gorillas. PloS one, 6(6), p.e19788.

Nyamweru, C., 1980. Rifts and volcanoes: a study of the East African rift system. Nelson Africa.