Sabinyo Volcano | John Seach

Congo-Uganda-Rwanda border
1.38 S, 29.59 E
summit elevation 3647 m
Stratovolcano
Sabinyo volcano has the distinction of having its summit in three countries. A field of cinder cones is located between Visoke and Sabinyo volcanoes.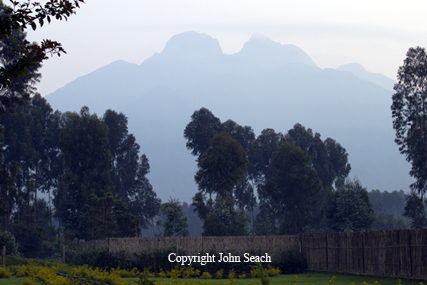 Sabinyo volcano - John Seach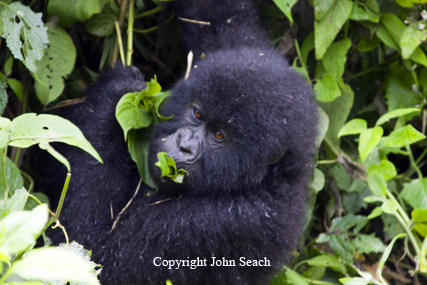 Gorilla on Sabinyo volcano, Rwanda - John Seach
Sabinyo volcano is deeply eroded, and contains spectacular gorges running back to the centre of the mountain. It is the oldest volcano in the Virunga range.
Sabinyo volcano is unique in the Virunga mountains because its lavas are silica-saturated, orthopyroxene-bearing K-trachytes or latites.
Mgahinga Gorilla National Park includes three of the Virunga volcanoes - Mt Muhabura, Mt Gahinga, and Mt Sabyinyo. The plains at the foot of the volcano are characterised by deep volcanic ash, and run-off from the mountains rapidly disappears underground.
A high numbers of endemic plant species are located around Sabinyo volcano. This region should therefore be a focus for plant conservation in the Virunga Volcanoes.
Further reading
Vollmer, R. and Norry, M.J., 1983. Possible origin of K-rich volcanic rocks from Virunga, East Africa, by metasomatism of continental crustal material: Pb, Nd and Sr isotopic evidence. Earth and Planetary Science Letters, 64(3), pp.374-386.

Sabinyo Volcano Eruptions
No recent eruptions.