Gahinga Volcano | John Seach

(Mgahinga)
Uganda-Rwanda border
1.39 S, 29.65 E
summit elevation 3474 m
Stratovolcano
Gahinga (Mgahinga) volcano is located in the eastern Virunga ranges. There is a swamp crater on the summit of Mt Gahinga. The plains at the foot of the volcano are characterised by deep volcanic ash, and run-off from the mountains rapidly disappears underground.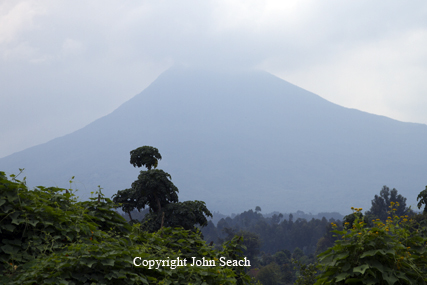 Gahinga volcano - John Seach
The main source of the north-flowing surface water is the Kabiranyuma swamp in the Muhabura - Gahinga saddle. River Kabiranyuma drains the swamp and is an important source of water for the populations around. It is the only river that does not dry up completely in the driest months of June to August.
Mgahinga Gorilla National Park includes three of the Virunga volcanoes - Mt Muhabura, Mt Gahinga, and Mt Sabyinyo.
Further reading
KATABARWA, J.B., 1992. Alkaline K-rich series of Gahinga volcano (Birunga volcanic range, Rwanda): petrological aspects. In 29th international geological congress (Kyoto, 24 August-3 September 1992).

Gahinga Volcano Eruptions
No recent eruptions.