Tinakula Volcano | John Seach

Temotu Province, Solomon Islands
10.38 S, 165.80 E
summit elevation 851 m
Stratovolcano 
Tinakula is an active volcano 40 km from Santa Cruz island. The island has an impressive stratovolcano shape. An active summit crater ejects glowing lava bombs down the SW side of the volcano. Tinakula Island used to be inhabited before the 1971 eruption and tsunami.
Tinakula is considered to be one of the most active volcanoes in the region, with a history of eruptions dating back to the report by Mendana in 1595. The volcano's activity is characterized by explosive eruptions, ash emissions, and the formation of lava domes.
The volcano is located on a remote island, and there is limited scientific data available on its activity. However, it is monitored by the Geohazards Division of the Solomon Islands Ministry of Environment, Climate Change, Disaster Management and Meteorology, using techniques such as seismology and thermal imaging. This monitoring helps to understand the volcano's behavior and to predict potential hazards, such as ashfall and pyroclastic flows.
Tinakula photos by John Seach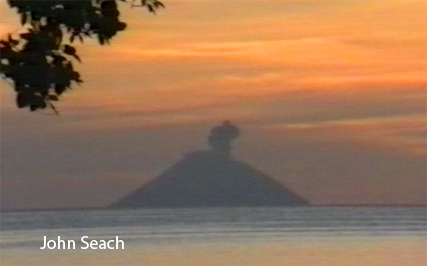 Tinakula Volcano eruption 1989 - John Seach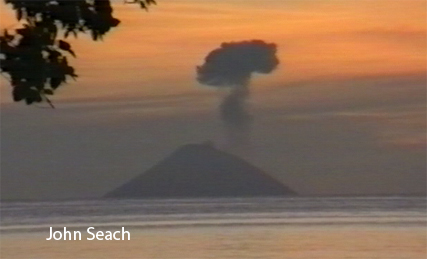 Tinaklula volcano 1989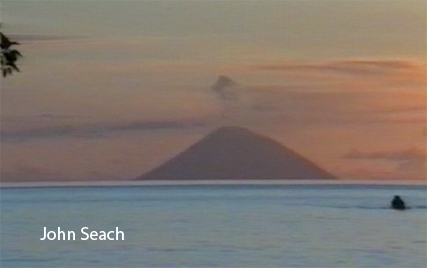 Tinakula volcano 1989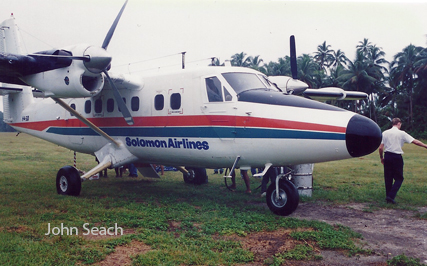 Solomon Airlines flight to Temotu Province, Solomon Islands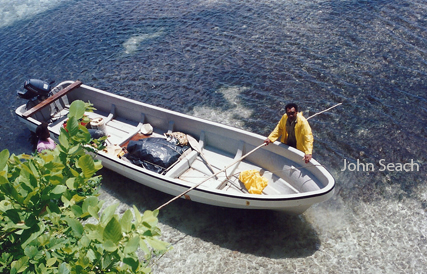 Tinakula volcano boat transport - 40 km of open ocean with single engine.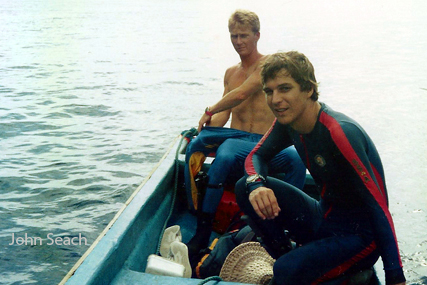 John Seach diving reef islands, Solomon Islands near Tinaukula volcano.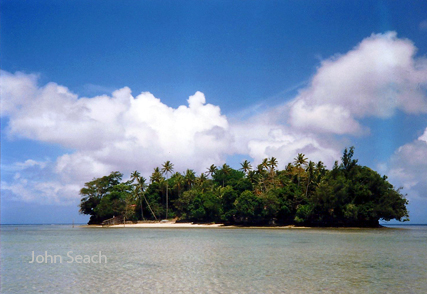 Reef Islands, Solomon Islands. John's home in 1989-90 when making daily observations of Tinakula volcano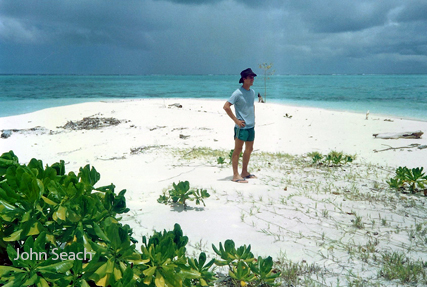 John Seach on uninhabited Makalom Island, Reef Islands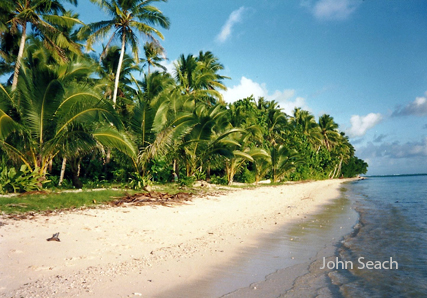 Ngatendo Island, Reef Islands, viewing location for Tinakula volcano

Fenualoa Island Village, Tinakula volcano views.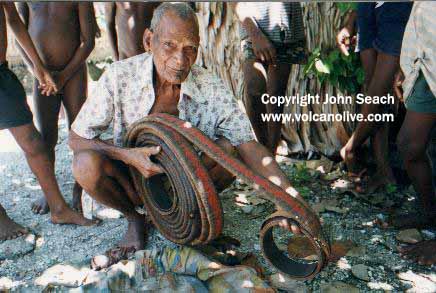 Red feather money, Reef Islands, Solomon Islands.

Tinakula volcano is culturally part of the Reef Islands.
More photos from the Reef Islands...
The southern side of Tinakula island is vegetated and coconut trees grow on cliff tops beyond the reach of the sea. Periodic eruptions from the volcano are visible from Reef islands and Santa Cruz. On the western side of the island there is a breach probably caused by a landslide. Flanking the breach are cliffs 100 m high.
Tinakula island has not been inhabited since the tsunami in 1971, but islanders from the outer Reef Islands occasionally travel to tend gardens on the SE flank. The ocean between Santa Cruz Island and Reef Islands is dangerous, with many currents and high seas regularly capsizing boats. Landing on the island is always dangerous due to prevailing swells and the lack of a suitable beach. The dominant SE trade winds blow ash and gases away from inhabited islands for most of the year, but a large eruption occurring in westerly winds may affect populations in the Reef Islands. Volcanic bombs (5 cm in diameter) of an unknown age located in villages on the Reef Islands (over 50 km away) were reported to have fallen from the sky.
2019 Activity
A hotspot was visible on satellite images on 9 November 2019, indicating activity at the Tinakula volcano. A hotspot was visible at Tinakula volcano on 30 January 2019, indicating possible new activity.
2017 Eruption
An eruption was reported at Tinakula volcano between 21-26 October 2017. On 21 October an ash plume was report to an altitude of 4500 m. Ashfall occurred at Fenualoa Island, Reef Islands, 50 km ENE. A large S02 plume was visible on satellite images extending NE of the volcano across the Reef Islands. The eruption was estimated to have a Volcanic Explosivity Index of 3.
2015 Earthquake
A magnitude 7.5 earthquake hit 60 km west of Tinakula volcano, Solomon Islands, on 18th July 2015. The focus was shallow at 12 km. No tsunami was generated.

2013 Great Earthquake
A cluster of earthquake occurred 40 km southeast and 68 km SW of Tinakula volcano in the Solomon Islands. The earthquakes occurred on 1st February 2013. In the first few hours 13 earthquakes were measured between magnitude 4.9 and 6.0. The earthquakes were shallow with focus between 10-46 km. A Great earthquake (magnitude 8.0) hit 100 km SW of Tinakula volcano, Solomon Islands on 6th February 2013. The Great Earthquake was preceded cluster of earthquakes in the same area over the past week. A tsunami warning was issued for countries in the Pacific including the Solomon Islands, Vanuatu, Papua New Guinea, New Caledonia, and Fiji. A tsunami watch was issued for Australia, New Zealand, and Indonesia. Earthquakes of this magnitude can disrupt nearby volcanoes. Tinakula is the nearest active volcano. A major earthquake (magnitude 7.0) occurred 9 km SSW of Tinakula volcano on 6th February 2013. The earthquake was shallow at a depth of 10 km. This is likely to have an effect on volcanic activity.
2013 Activity
Volcanic plume was reported at Tinakula volcano on 5th February 2013.

2012 Earthquake and Eruptions
A magnitude 6.6 earthquake hit 70 km SW of Tinakula volcano on 9th January 2012. Satellite images showed hotspots at the volcano throughout 2012, indicating high levels of activity.
1995 Eruptions
John Seach observed Tinakula volcano from the Reef Islands (54 km ENE) from August 1989 to February 1990. Typical activity consisted of Vulcanian eruptions and ash emission to 200-400 m above the summit. Eruptions occurred in distinct bursts separated by intervals ranging from minutes to hours. Reports from sailors indicated that lava bombs frequently rolled down to the sea on the NW side of the volcano, and glowing avalanches were observed at night.
1989-90 Eruptions
Tinakula was approached by motorized canoe on two occasions in 1995 by John Seach, but dangerous seas made landing impossible. Ongoing ash emissions originated from the summit area. The upper slopes of the volcano were bare and exposed to gas emissions. Regions of mass wasting on the flanks were common, and blocks of lava and rubble were found at sea level at various locations around the island. However, some of the lower flanks were covered with thick vegetation. During a Solair flight from Santa Cruz to Honiara in late September 1995, activity was observed at the summit crater with ash emissions drifting several kilometers towards the W.
Further reading
Luyendyk, B.P., Bryan, W.B. and Jezek, P.A., 1974. Shallow structure of the New Hebrides island arc. Geological Society of America Bulletin, 85(8), pp.1287-1300.

Tinakula Volcano Eruptions
2017-2020, 2011-13, 2006-09, 2001-02, 1999, 1995, 1989-90, 1984-85, 1971, 1965-66, ?1955, 1951, 1909, 1886, 1871, 1869, 1857, 1865?, 1860?, 1855, ?1840, 1797, 1768, 1595.