Osorno Volcano | John Seach

Chile
41.10 S, 72.49 W
summit elevation 2652 m
stratovolcano
Osorno Volcano is located in southern Chile. Osorno is one of the most active volcanoes in southern Chile. Historical eruptions have produced lava flows that have entered both Llanquihué and Todos los Santos lakes.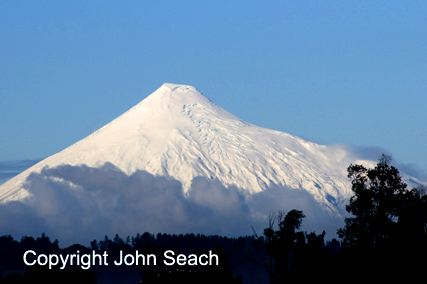 Osorno Volcano - John Seach
Geology of Osorno volcano
The volcano is exclusively basaltic except for two small dacitic domes in the most recent volcanic unit.
Charles Darwin, the great naturalist remarked about Osorno "the volcano of Osorno stood out in bold relief; and it was curious to watch, as the sun rose, the outline gradually fading away in the glare of the eastern sky."
Osorno volcano is best observed in the early morning or late evening when it stands out against a darker background.
Further reading
Lopez-Escobar, L., Parada, M.A., Moreno, H., Frey, F.A. and Hickey-Vargas, R.L., 1992. A contribution to the petrogenesis of Osomo and Calbuco volcanoes, Southern Andes (41° 00'-41° 30'S): comparative study. Andean Geology, 19(2), pp.211-226.

Osorno Volcano Eruptions
1869, 1855, 1851, 1837, 1834-35, 1790-91, 1765, 1719, 1644?, 1640?, 1575?, 1310