Ngorongoro Crater | John Seach

Tanzania
3.0 S, 35.5 E
summit elevation 2440 m
Extinct volcano
Ngorongoro crater is a caldera located on the eastern side of the Serengeti ecosystem of Tanzania.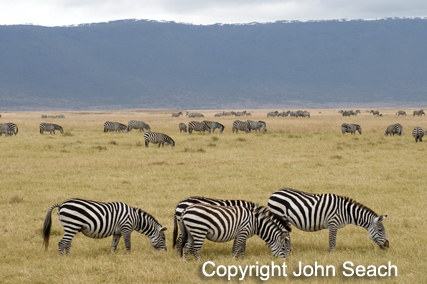 Ngorongoro - John Seach
The caldera is 21 km x 18 km in size, and the floor covers 304 sq km. The caldera floor contains a large variety of wildlife, making it one of the world's premier ecotourism destinations.
Further reading
Mollel, G.F., Swisher III, C.C., Feigenson, M.D. and Carr, M.J., 2008. Geochemical evolution of Ngorongoro Caldera, Northern Tanzania: Implications for crust–magma interaction. Earth and Planetary Science Letters, 271(1-4), pp.337-347.

Barns, T.A., 1921. The highlands of the great craters, Tanganyika territory. The Geographical Journal, 58(6), pp.401-416.

Ngorongoro Eruptions
2 million years ago.