Central Java, Indonesia
7.45 S, 110.43 E,
summit elevation 3145 m
stratovolcano
Merbabu is located close to Merapi volcano. It is a large overgrown volcano with three grabens.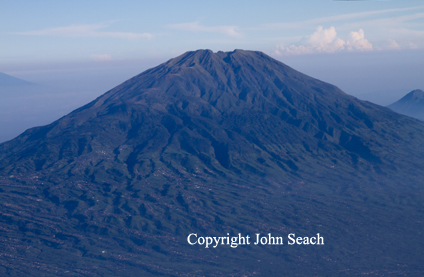 Merbabu Volcano - John Seach
The most recent magmatic eruptions originated from a NNW-SSE fissure system that produced large-volume Kopeng and Kajor lava flows on the northern and southern flanks.
Further reading
Kohno, Y., Setijadji, L.D., Utami, P., Harijoko, A. and Pecsk, Z., 2005. Geochronology and petrogenetic aspects of Merapi-Merbabu-Telomoyo-Ungaran volcanoes, central Java, Indonesia. text.