Lolo Volcano | John Seach

West New Britain Province, Papua New Guinea
(also called Auwers)
5.47 S, 150.50 E
summit elevation 805 m
stratovolcano
Lolo volcano is located 13 km north of Pago Volcano in New Britain. It is a nearly symmetrical steep-sided stratovolcano with upper slopes (above 300 m) of 35 deg. Between 150 and 250 m elevation slopes are 20 deg.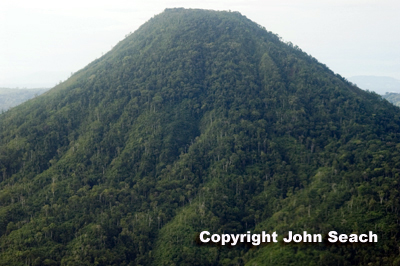 Lolo Volcano - John Seach
There is a shallow well preserved summit crater (250 m long, 175 m wide, 60 m deep) and bare patches on the upper slopes. The cone has a base diameter of 4 km.
The flanks of Lolo volcano have a radial pattern of steep-sided valleys up to 30 m deep. Most of the valley originate 70 m below the summit as small gullies. Some lava flows are well preserved and are visible from the air.
Further reading
Blake, D.H. and Johnson, R.W., 1971. The Cape Hoskins Area, Southern Willaumez Peninsula, the Vitu Islands and Associated Volcanic Centres. Volcanic Geology and Petrography Record 1972/133. Bureau of Mineral Resources. Geology and Geophysics of Australia.

Lolo Volcano Eruptions
Last eruptions undated.