Focal Peak Volcano - John Seach

SE Queensland, Australia
shield volcano
Mt Barney forms the central volcanic complex. Mt Lindseay, Mount Gillies, Campbells Folly, Mount Glennie, Levers Plateau

Mt Lindsay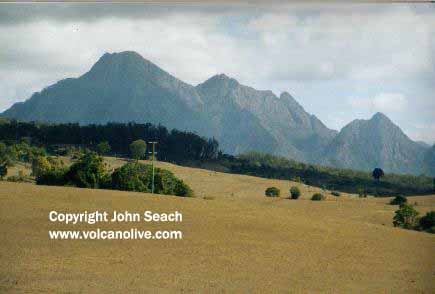 Mt Barney
Further Reading
Stephenson, P.J., 1959. The Mt. Barney Central Complex, SE Queensland. Geological Magazine, 96(2), pp.125-136.
Stevens, N.C., 1970. Miocene lava flows and eruptive centres near Brisbane, Australia. Bulletin Volcanologique, 34(2), pp.353-371.

Ross, J.A., 1985. SECONDARY SILICIFICATION OF RHYOLITES FROM THE FOCAL PEAK SHIELD VOLCANO, AUSTRALIA. Current Science, pp.1168-1171.

Focal Peak Volcano Eruptions
23 million years ago.