Burning Mountain | John Seach

Wingen, New South Wales,
Australia
Burning mountain is a burning underground seam of coal. It has been burning for 5000 years. The cracks are located on a lightly forrested hillside in rural NSW. The vents emit hot gases and sulphur. Until 1866 Burning Mountain was proclaimed as Australia's only mainland volcano.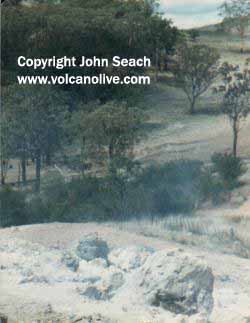 Burning Mountain. Hot sulphurous gases escape from the ground.

Eruptions of Burning Mountain
Not a volcano.