Lake Baringo Geyser | John Seach

New Geyser Erupts in Kenya - (8th April 2004)
A Geyser has erupted near Lake Baringo, Kenya, reaching a maximum height of 80 m last Friday. The geyser injured two people who were drilling a borehole. The two men were seriously injured by the eruption of hot water. The Baringo County Council had comissioned a company to drill the borehole to supply the village with freshwater. The geyser has the potential to become a major tourist attraction, as the area has a number of other geothermal attractions in the nearby Lake Bogoria Game Reserve. Experts expect that the geyser will continue to emit hot water for many years because it is on a a channel from Lake Bogoria.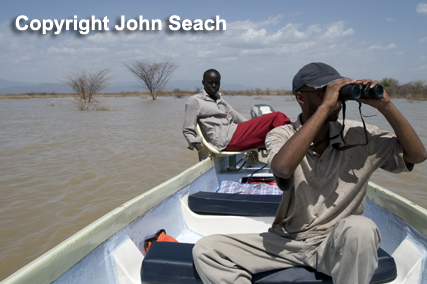 Lake Baringo - John Seach
Hundreds of tourists have traveled to the area to see the geyser that has overtaken the one in Yellowstone National Park, USA, as the world's highest. The geyser can be seen as far away as 20 km. The geyser began erupting Thursday afternoon and has been sending a continuous fountain of salty water in the sky at a temperature of 90 deg C. This is in contrast to the usual activity of geysers which are intermittent. Government experts are assessing how to deal with the salty water discharge, which risks entering the nearby freshwater lake Baringo, 3 km away. This geyser activity is a reminder of the volcanic nature of the rift valley.
Geysers are produced when boiling water enters fractured rock at shallow depth, and then flashes to steam, producing the characteristic jet of hot water.