Ambae Volcano | John Seach

Ambae Island, Penama Province, Vanuatu

15.38 S, 167.83 E,
summit elevation 1496 m
Shield Volcano
Ambae is an ellipsoid shield volcano in northern Vanuatu. The island forms the upper part of the most voluminous volcano in Vanuatu. Ambae volcano rises 3900 m above the ocean floor and has a volume of 2500 cubic km. The volcano is atypical because it has a significant volume of pyroclastic products compared to other basaltic shield volcanoes. Ambae volcano produced the largest eruption in the world in 2018.
Ambae volcano photos by John Seach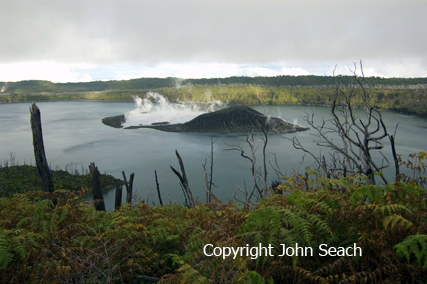 Ambae volcano (Lake Voui) 2009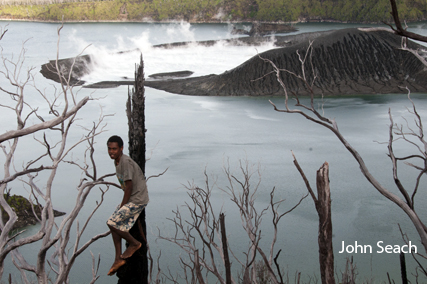 Lake Voui, Ambae volcano 2009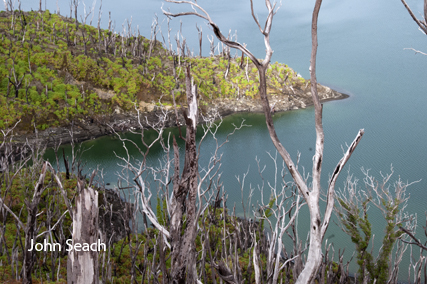 Lake Voui, Ambae Island, Vanuatu 2009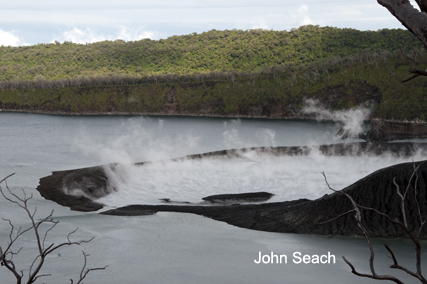 Ambae volcano, Vanuatu. Lake Voui 2009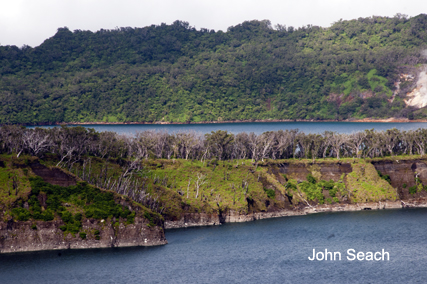 Summit of Ambae volcano, Vanuatu 2009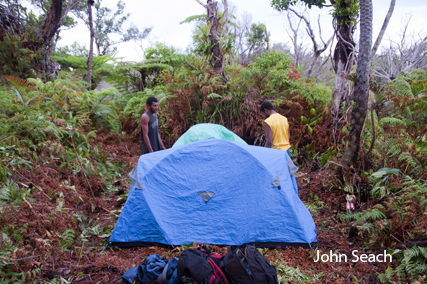 Campsite near summit of Ambae volcano, Vanuatu.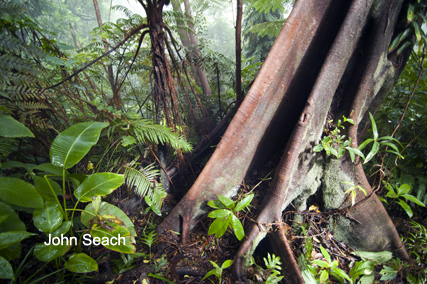 Ambae Island jungle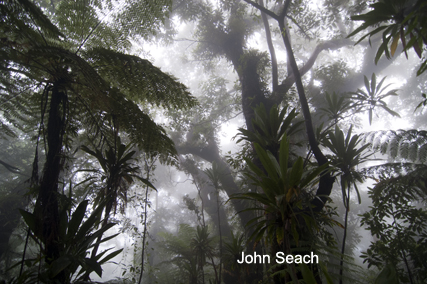 Ambae Island jungle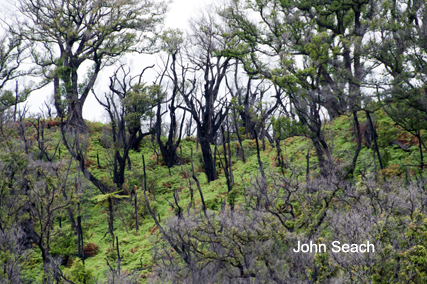 Volcano affected jungle, Ambae Island, Vanuatu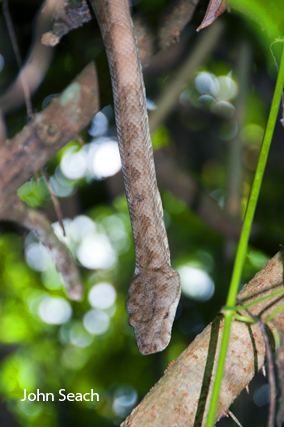 Python at Ambae volcano (Pacific Boa)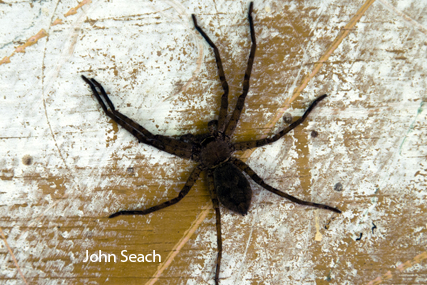 Another hazard of volcano climbing!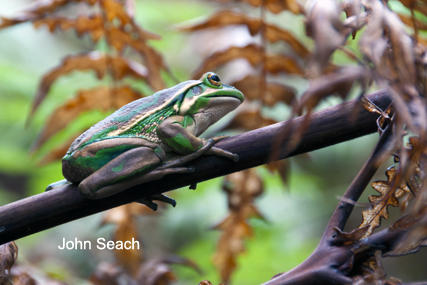 Ambae Island, Vanuatu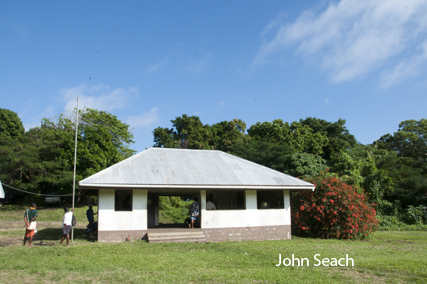 Passenger terminal at airfield on Ambae Island, Vanuatu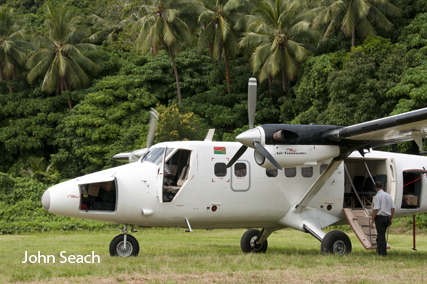 Air Vanuatu flight, Ambae Island
Three summit crater lakes at Ambae volcano:
Lake Manaro Ngoru - 300 m diameter.
Lake Vui (Voui) - 2.1 km diameter.
Lake Manaro Lakua - 1.3 km diameter.
2017-2018 Plinian eruption
Activity increased at Ambae volcano on 23 September 2017. Ash emissions occurred from the summit. The alert level was raised to 4 (out of a maximum 5). Preparations were being made to evacuate up to 5000 people. On 25th September a summit eruption was reported at Ambae volcano. A new cinder cone formed in the summit lake, and a lava pond was visible. This is the first time a lava pond has been observed at Ambae volcano. Major eruptive activity in March and April 2018 caused damage to buildings and heavy ashfall over the island. On 29th March 2018 the crater lake was observed a red colour. On 31 March 2018 and ashplume reached 13.7 km altitude. The island of Ambae was evacuated in July 2018 due to ongoing eruptions, with 10,000 residents relocated to Santo and Maewo Islands. The eruption of Ambae volcano was the largest in the world in 2018.
2016 Unrest
Ambae volcano was raised to level 2 alert on 21 August 2016. Approaching the summit area was not considered safe.
2013 Activity
Activity at Ambae volcano began in December 2012 and continued into 2013. Satellite images showed sulphur dioxide plumes at volcano during February 2013. The alert status at Ambae remained at level 1. A magnitude 6.1 earthquake hit 12 km west of Ambae volcano on 26th July 2013.
2012 Update
Satellite images showed a sulphur dioxide plume over the volcano on 24th December 2012, extending NW towards Espiritu Santo Island.
2011 Activity
Small ash eruptions occurred at Ambae volcano at the beginning of June 2011. On 13th June 2011 satellite images showed sulphur dioxide emission from Ambae volcano extending west to Espiritu Santo Island. There was an increase in seismic activity at the volcano in July 2011.
2006 Colour Change in Lake
On 28th May 2006 the colour of Lake Voui had changed from blue to blood red due to oxidation of iron. The change was possible related to a change in the ratio of sulphur dioxide and hydrogen sulphide emitted by vents in the lake.

2005 Surtseyan Eruption
Summit eruptions began at Ambae volcano on 27th November 2005. People living in the north to the western side of the island reported smelling sulphuric fumes after an earthquake on February 16, 2005. In December 2005 eruptions were observed from two vents in Lake Voui. A 20 m high cone formed in the lake by 4th December.
On 28th May
2000 Unrest
There was an increase in water temperature at Ambae Volcano in 2000.

1995 Eruptions
Phreatic Eruptions occurred at Voui Crater Lake, Ambae in 1995.
Further reading
Moussallam, Y., Rose-Koga, E.F., Koga, K.T., Médard, E., Bani, P., Devidal, J.L. and Tari, D., 2019. Fast ascent rate during the 2017–2018 Plinian eruption of Ambae (Aoba) volcano: a petrological investigation. Contributions to Mineralogy and Petrology, 174(11), p.90.
Bani, P., Oppenheimer, C., Varekamp, J.C., Quinou, T., Lardy, M. and Carn, S., 2009. Remarkable geochemical changes and degassing at Voui crater lake, Ambae volcano, Vanuatu. Journal of Volcanology and Geothermal Research, 188(4), pp.347-357.

Ambae Volcano Eruptions
2017-2018, 2011, 2005, 1995 (lake degassing), 1914 (earthquake), 1870, 1670, 1575