Agung Volcano | John Seach

Bali, Indonesia
8.34 S, 115.51 E,
summit elevation 3142 m
stratovolcano
Agung is the highest peak on Bali. The volcano is located in the eastern side of the island. Towards the north east the volcano slopes towards the Bali Sea. In the SE there is a row of small extinct volcanic cones. Towards the NW Agung volcano is separated by a narrow valley from Mt. Batur.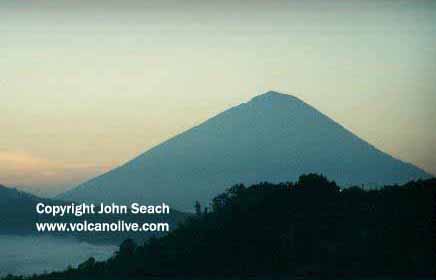 Agung Volcano - John Seach
The cone is steep and is almost completely barren on top, with an open funnel shaped crater measuring 520 X 375 meters.
Mt. Agung is one of many volcanoes in Indonesia which has few written records, due to the long period of dormancy.
2017-2019 Eruptions
On 22nd September 2017, Agung volcano, Bali was raised to maximum level 4 alert. People are advised not to climb or camp inside Agung crater, and in areas within a 6 km radius of Agung, or at elevations above 950 m from sea level. The exclusion zone radius is increased to 7.5 km in the North, Southeast and South-Southwest. 100,000 people were evacuated.
Summit eruption of Agung volcano occurred 21st November 2017. Small ash cloud rising 700 m above summit and drifting east. Five villages affected by the ash, including Pidpid, Nawakerti, Bukit Galah, Sebudi and Abang.
Between February and May 2019 there were continued explosions at Agung volcano.

1963 Eruption
A destructive eruption occurred in 1963. Victims were killed by pyroclastic flow (820 persons), ejected glowing rock fragments and volcanic ashfalls (163 persons), and 165 persons were killed by lahars. Injured people were affected by pyroclastic flows (59 persons), ejected glowing rock fragments and volcanic ashfalls (210 persons), and lahars (36 persons).
The first indication of renewed activity were frequent tremors felt by people living in Jehkori, a village on the southern slope of the volcano at an elevation of 928 m, about 6 km from the summit.
Five days after resumption of activity, thick and viscous lava flowed over the lowest northern crater rim and down the steep northern slope. It reached a length of 7 km from the summit towards the middle of March 1963.
On 24th February, nuees ardentes killed 12 people in the village of Boleng who were evacuees returning for their belongings.
The eruption reached its highest peak of intensity at 05:32 on 17th March 1963 with eruption clouds rising to a height of 10 km from the crater. Nuees ardentes flowed down the southern and southeastern slopes continuously and devastated numerous villages and temples in the region around Selat. The nuees ardentes
reached distances of 14 km from the summit and burned everything on their way.
Another series of large eruptions occurred on 16th May 1963 when ash was emitted to a height of 10 km and nuee ardentes killed 120 people.
The eruptions of Agung volcano in 1963 created a crimson sunset glow over America and Europe.
1843 Eruption
A report by Zollinger in 1843 recorded the eruption from the summit crater.
"After having been dormant for a long time, this year the mountain began to be alive again. In the first days of the activity earthquake shocks were felt after which followed the emission of ash, sand and stones."
Further reading
Yip, S.T.H., Biggs, J. and Albino, F., 2019. Reevaluating Volcanic Deformation Using Atmospheric Corrections: Implications for the Magmatic System of Agung Volcano, Indonesia. Geophysical Research Letters, 46(23), pp.13704-13711.

Self, S. and Rampino, M.R., 2012. The 1963–1964 eruption of Agung volcano (Bali, Indonesia). Bulletin of volcanology, 74(6), pp.1521-1536.

Volz, F.E., 1964. Twilight phenomena caused by the eruption of Agung volcano. Science, 144(3622), pp.1121-1122.

Gunung Agung Volcano Eruptions
2017-2019, 1963, 1843, 1821?, 1808